7. Pública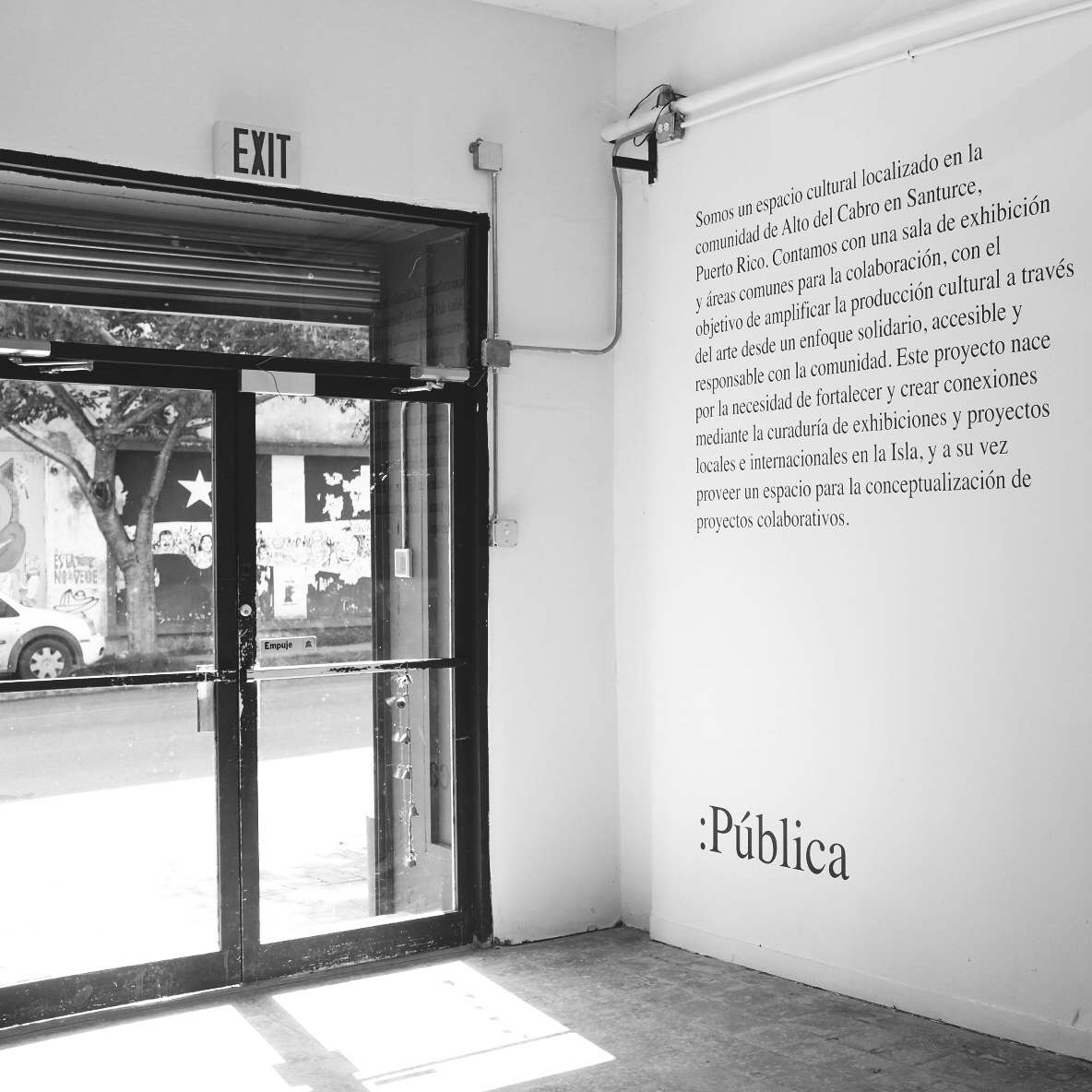 Images courtesy of Luis Vázquez O'neill



Pública: is a cultural space founded in November 2018 by cultural producer Naíma Rodrígez and independent curator Natalia Viera Salgado. The space is located in the community of Alto del Cabro, one of the most important historic neighborhoods of Santurce, Puerto Rico. As the Co-Founder and Curator of Exhibitions and Public Programs, this project aims to amplify creative production with cultural experiences and propose innovative solutions through art from a solidary, accessible and responsible approach with and for the community. From the idea of the democratization of education and providing an open source and participatory engagement, the space was born from the need to strengthen and create connections with the community of Santure and the cultural sector in the island and internationally. As one of our major problems on the island currently is the lack of funding and spaces dedicated to serve the community in the cultural and arts sector. On November 2018, the space opened up its doors to become a platform for local artists and international artists as a way to strengthen the relationship between Puerto Rico and an international audience.

Pública: considers multiplicity as its main strength. Thinking from this principle has allowed us to imagine ways in which the space can provide experiences for the enjoyment of the community such as exhibitions, public programs and community projects. The goal is to create a platform for the investigation and diffusion of contemporary artistic practices that go beyond traditional formats inside and outside the institution, while at the same time providing an accessible space for the community. It is also in our plans the reinforcement of relationships with other institutions not only in the island but internationally.

Following our vision and mission statement, this is an ongoing project devoted to research, production and planning long-term projects such as community initiatives, exhibitions, artists and curator residencies, workshops, artist talks, performances, screenings, educational programs, international collaborations. As cultural producers, we believe in the creation and preservation of a living archive through providing physical space for collective memory and stories of our communities while fostering critical conversations around the arts, socio-cultural concerns from many angles through the lens of contemporary art and community engagement.


Images courtesy of Luis Vázquez O'neill